Toolbars
These can be mounted at the front, underneath or behind a tractor. A wide range of imple­ments, including ridging bodies, cultivator tines, hoe blades, etc. can be fitted to suit various rowcrop widths. The tractor wheels must also be set to suit the row widths.
Inter-row hoes may be fitted on a front-, mid-or rear-mounted toolbar. Front hoes are very sensitive to slight movements of the steering wheel but give good visibility of the row. Mid-mounted hoes are less sensitive to steering changes but visibility of work is not good.
'L' shaped or side hoe blades are used to cut weeds close to the rows and 'A' hoes remove weeds between the rows. Some inter-row hoes have plant protection shields to prevent soil being thrown over the plants when they are small.
Traditionally, rear-mounted steerage hoes with a second operator to steer the hoe were in common use but, except for organic crop pro­duction, steerage hoes are now rarely used.
Fig. 31. A rear-mounted inter-row hoe with shields to protect the young plants.
Rear-mounted inter-row hoes (Fig. 31)with frames up to 9 m wide, sometimes with a seat for a second person to guide the hoe blades when working in closely spaced rows, are still made. The number of independently mounted hoe units, often with zero-pressure tyres, will depend on row spacing and frame width. Inter-row hoes, some wide enough to hoe eighteen rows of sugar beet at a time, are also made for use on a three-point linkage at the front of a tractor. Wide front- and rear-mounted toolbars are hydraulically folded for transport. Electronics are also used to guide rowcrop equipment at high speed using a video camera and an automatic hydraulic side-shift mechanism on the toolbar.
Inter-row hoeing and cultivating are an important part of organic crop production both for cereals and vegetables. Organic cereals are usually drilled in widely spaced rows and either inter-row hoed or cultivated with spring tines on a front- or rear-mounted tool frame (Fig. 32).
Rowcrop work in potatoes and vegetables grown in beds using ridging bodies, cultivator tines or weeders is another important use of tractor toolbars.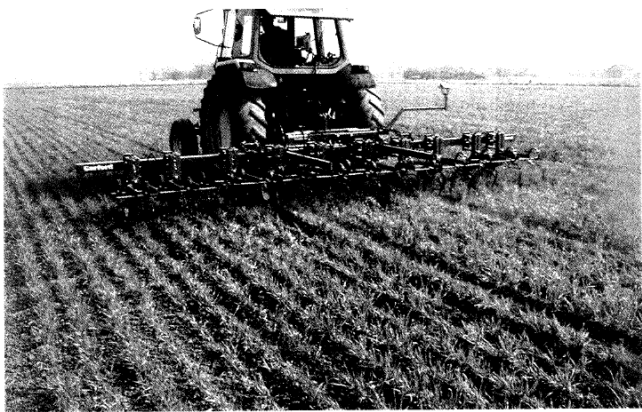 Fig. 32. Inter-row cultivation of a crop of organic wheat grown in widely spaced rows. The toolbar is equipped with an electronic guidance systems.
Поиск по сайту: