Safety devices.
Break-away device. A spring-loaded mechan­ism allows the whole cutter bar to swing back­wards if it hits an obstruction. Reverse the tractor to return the cutting mechanism to the working position.
Slip clutch. Some rotary mowers have a slip clutch in the drive from the power take-off shaft to the mower gearbox. This protects the drive from overload.
Plate 14.4 Mounted drum mower and conditioner. (Taarup)
Shear boltSome models have a shear bolt breakaway device. If the bar hits an obstruction the shear bolt breaks, allowing it to swing back­wards, avoiding damage.
Flail Mowers.The flail mower has a high speed rotor, fitted with swinging flails which cut the grass and leave it in a fluffy swath. The power take-off driven rotor is enclosed in a metal shield which helps to form the swath. The flails bruise the grass as it is cut. This speeds up the haymaking process but can cause some loss of material.
The drive from the power take-off is transmit­ted through a gearbox, then by belt or chain to the rotor.
Some flail mowers are mounted behind the tractor; others are off-set to one side or front-mounted to keep the tractor wheels off the uncut crop.
'Y-shaped' blades suspended on short chains are used for grass cutting; chisel-edged blades are used for mulching and cutting heavy scrub.
Cutting height is adjusted with skids at each side of the rotor housing. Off-set flail mowers are transported with the cutting unit folded back behind the tractor.
Set-aside Mowers.Flail and rotary mowers have been modified by some manufacturers in recent years for cutting vegetation on set-aside land. Flail mowers for set-aside work may be front-mounted, rear-mounted or trailed machines with cutting widths from 2.4-4.8 m. The flail rotor with free swinging blades is driven by a multiple vee-belt at speeds of approximately 2,000 rpm. An adjustable rear hood spreads the cut material.
Most set-aside rotary mowers have folding wing sections which float on uneven ground. Cutting widths vary from 3.5-5 m or more.
Plate 14.5 An off-set mounted flail mower for topping pastures and set-aside mowing. The rear roller stops the flails hitting the ground when working on uneven surfaces. (Twose)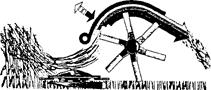 Figure 14.3 The path of grass through a mower conditioner. The crop is rubbed against the adjustable hood to hasten drying. (John Deere)
Поиск по сайту: