Precision Chop Forage Harvesters
A cylinder chopper gives a more precise length of chop. The previously cut swath is gathered by a pick-up cylinder and lifted to the auger which transfers'it to the feed rolls. The chopper unit, which may be to one side of, or behind, the auger, receives the crop from the feed rolls. They compress the material into a firm wad so that'the knives can slice it cleanly against a fixed shearbar. The rollers also control the rate of crop flow through the cutting cylinder to ensure a uniform length of chop.
The speed of the feed rolls determines the length of chop, which also depends on the num­ber of knives on the cylinder running at a speed of about 1,000 rpm. The chopper cylinder also creates the airflow which carries the chopped material up the delivery spout into a trailer. It is usual for high output machines to have a second impeller fan to provide additional airflow to carry large volumes of material to the trailer.
Figure 15.1 Crop flow through a precision chop forage harvester. (Claas)
An example of a trailed precision chop machine with a 1.7 m pick-up has a cylinder 610 mm (24 in) diameter and 463 mm (18 in) wide running at 975 rpm. It can have five or ten rows of knives with three cutters in each row. Ten rows (30 knives) give a chop length from 6-16 mm and with alternate rows of knives removed the material will be chopped into lengths varying from 12-32 mm, depending on the speed of the feed rolls. This particular har­vester requires about 75 kW (100 hp)_ at the power take-off. A larger model with a 584 mm wide chopping cylinder needs up to 130 kW (180 hp) with the power shaft running at 1,000 rpm.
Most forage harvesters have a metal-detecting magnetic field built into the lower feed roll made with non-magnetic alloy steel. When a piece of ferrous metal is found in the crop an electronic sensor stops the feed roll to prevent damage to the chopper knives and at the same time sets off an audible warning in the cab.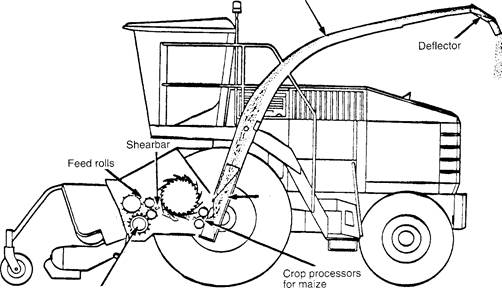 Figure 15.2 Layout of a self-propelled precision chop forage harvester.
Plate 15.5 The cutterhead or chopper cylinder is used in a precision chop forage harvester with a 1.75 m pick-up cylinder. It is 485 mm wide and 630 mm in diameter (19 x 25 in) with 24 knives which cut the crop against a full width shearbar. The cutterhead runs at 1,100 rpm and makes 8,800 separate cuts per minute. (Claas)
A typical high output self-propelled precision chop forage harvester has a chopper cylinder 650 mm in diameter and 750 mm wide running at 1,200 rpm. One design has 24 chopper knives mounted in a chevron pattern across the rotor, which chop the crop against a shear bar into lengths varying from 4 to 17 mm. Another model has interchangeable chopper rotors with 40, 48 or 56 knives and a fixed shear bar that chops the crop into lengths ranging from 4 to 25 mm.
Поиск по сайту: