Relationship between the above
Sprinkler manufacturers publish performance charts mat relate sprinkler discharge, nozzle size, water pressure and wetted diameter. Some sample data is included in Figure 6.15. As a starring point, it is necessary to decide the required application rate first (in mm/h). Sprinkler spacing is often governed by standard pipe lengths or standard models of self-propelled machines. This information can then be used to select die optimum nozzle size and water pressure to suit any given operational requirement.
Need for risers.Although the sprinkler can be attached directly to me sprayline coupling (see Figure 6.1), there are two reasons why the sprin­kler should be mounted on a riser:
• to ensure the sprinkler is above crop height,
• to provide non-turbulent water flow into the sprinkler.
High sprinklers may become unstable and topple over. In permanent installations the riser may need to be staked. In portable systems the sprayline coupling could be fitted with a stabilising foot, or it could be fitted with legs.
Figure 6.17 Ideal spray pattern – single sprinkler
Application rates.The maximum application rate should not exceed the infil­tration rate of the soil surface. If it does, the water depth at the surface will increase and runoff will occur.
The application rate may be determined by the need to irrigate a given area in a particular time. For permanently installed equipment, mere is usually no limitations. For mo­bile equipment, which must water a certain number of shifts or stations within the irrigation interval, die application rate must be sufficient to get the required amount of water on within the prescribed time. Given mat a slow application rate has some advantages over excessive application rates, mere must therefore be enough equipment installed, and of suffi­cient capacity to suit.
The advantages of slow application rate include:
• reduced runoff,
• maintenance of good soil surface structure,
• reduced labour per day (although total labour require­ment for me irrigation is unaffected),
• more uniform infiltration,
• better match to the yield from bores.
Figure 6.18 Ideal spray pattern -Multiple Sprinklers, 50 per cent overlap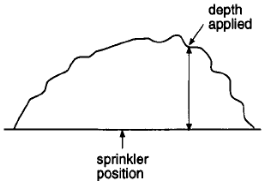 Figure 6.19 Actual spray pattern - single sprinkler
Поиск по сайту: