Sample paragraph 2
It is the incredible speed of computers along with their memory capacity that make them so useful and valuable. Computers can solve problems in a fraction of the time it takes man. For this reason, businesses use them to keep their accounts, and airlines, tramlines and buslines use them to keep track of ticket sales. As for memory, modern computers can store information with high accuracy and reliability. A computer can put data into its 'memory' and retrieve it again in a few millionths of a second. It also has a storage capacity for as many as a million items.
If you were to organize this paragraph into its three components, it would look like this: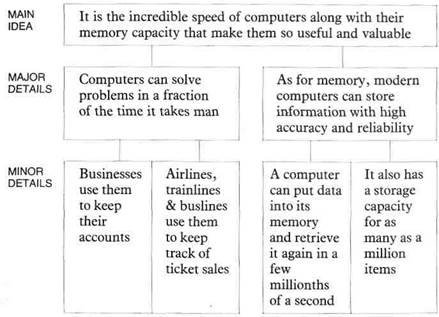 N.B. The major details in a paragraph are of about equal importance. Because minor details grow out of major details and also give information about major details, they are less important.
In making a block diagram you don't have to write every word in the main idea sentence or in each of the detail sentences.
Поиск по сайту: